Here's a few photos and thoughts after tonight's inaugural
Columbus Science Pub
(more on the event
here
), held at the
Hampton's on King
near the OSU campus. The first speaker in the monthly event series?
Dr. Tara C. Smith
, professor of epidemiology and author of the kick-ass ScienceBlog,
Aetiology
. Not sure what the organizer(s) thought, but I thought the event was a great success.
Figure 1. Science education done right: on bed sheet, in a bar.
Tara's talk was titled
Science Denial and the Internet
, and covered topics ranging from HIV denial, this history of the anti-vaccine movement, and advice for the audience (which included both scientists and non-scientists) on how to weed out misinformation and promote better communication of science to the public. By my count, there were a little over 50 people in the audience at it's peak.
Figure 2. Some of the crowd.
So why do I consider this first installment of the Columbus Science Pub a success?
First, we had a good mix of folks in the audience: Non-science folks, science students, researchers and a few bloggers like myself and
I'll try and get a copy of her talk to share some of the highlights, but in the mean time I'll share her closing slide which probably sums up the frustration
my
internet presence causes Dr. Wife™... ;)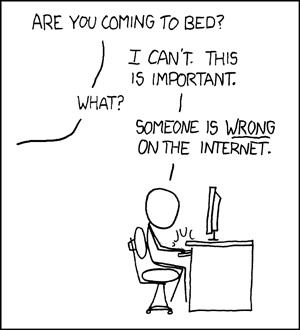 For more details on her talk, see
this Newsvine article by Brent Jernigan
.