Aside from actually posting weekly reptilian pics (sorry about that - grad school...) I thought I should try and put a little more diversity into the effort. So this week, courtesy of
James Gunn's "50 Freakiest Animals"
I bring you the
Ajolote
(aka the Mexican Mole Lizard aka the
Five-toed Worm Lizard
aka the
Baja Worm Lizard
).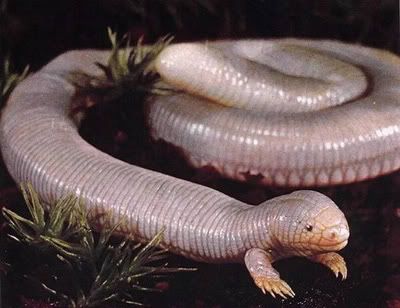 These reptiles are grouped with snakes and lizards in the order
Squamata
, but like other "worm lizards" they are distinct from both snakes (suborder Serpentes) and lizards (suborder Lacertilia), and have their own suborder
Amphisbaenia
.
Bipes biporus
is one of the four Amphsibaenians occurring in south western North America, which together comprise all four members of the genus
Bipes
and monophyletic family
Bipedidae
(the "two-legged worm lizards"). Like other worm lizards, it is a carnivorous burrowing species that tends to only venture into the open after dark.